Skipper: Guide dogs for the blind
Pupdate 1 – Settling In
We have some exciting news to share… FMS is sponsoring a guide dog! We have received our introduction and official certificate and are very much looking forward to our monthly pup-dates.
Let us introduce you to our little buddy, Skipper, a gorgeous fluffy and friendly yellow lab! He has recently moved in with his new puppy walkers (guide dog volunteers) and is currently finding his clumsy puppy feet but we are glad to report that he is settling in nicely!
He has a new friend, Sparky, the owners pet dog, another loyal yellow lab. Ever since Skipper moved in, they have become inseparable and are the best of friends! They are always playing together and Skipper now has a new role model to look up to.
It took some restless nights, but we are glad to report that Skipper has finally settled into his new home and is happily snoozing throughout the night with no disruptions, his owners are very pleased with this.
His puppy classes are going well and he is really excelling and progressing nicely with his basic commands, such as 'sit', 'stay' and 'wait'. He has also been introduced to public transport and experienced buses and trains. On his first train ride he jumped up onto the seat, which is a no no, but now he's learned that he's not in it for the ride but is there to do a job and has been superb ever since!
Skipper loves everything and everyone. He likes using his own initiative, which is a very important skill for a guide dog to have, as one day he'll be flying solo and guiding a blind/partially sighted person daily all on his own.
Well done Skipper, we are very proud of your progress thus far and can't wait to read what you have been up to next month!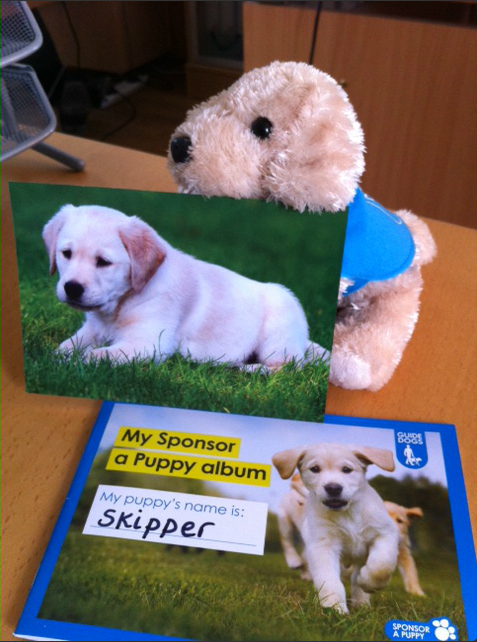 ---