Lead Generation
Every business likes to have a healthy sales pipeline. Knowing where your next sale is likely to come from helps give peace of mind, a feeling of security, and the promise of a successful future.
So, in an increasingly complex world how do you put together a lead generation strategy that works for your business?
Download our free mini-guide 'Top tips for lead generation'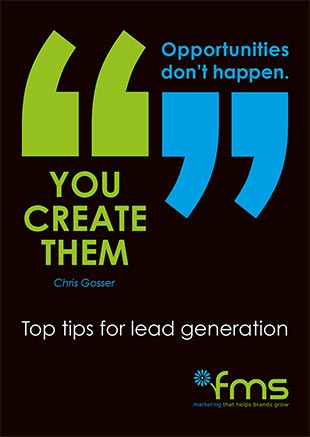 Successful lead generation strategies need to take into account the key differences between business-to-business marketing and consumer marketing. Typically, business-to-business marketing:
Has a longer decision-making process
Has a greater number of stakeholders / interested parties
Involves longer term relationships
Has a smaller pool of leads
Requires deeper technical knowledge
Consequently, to be successful, business-to-business marketing strategies are likely to need more 'up front' investment and take a multi-channel approach (to engage with customers at different stages of the decision making process). They will also need to demonstrate how a business, product or service adds value to people's lives, show how it is different to others and talk to people interested in what it has to offer with messages that they can really relate to.
To find out more download our free mini-guide 'Top tips for lead generation'